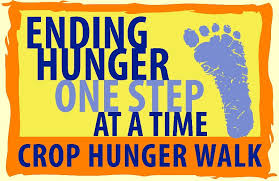 2019 Waterford Area Crop Walk
September 10, 2019 11:26 am
This year's CROP Walk will be on Sunday, October 6th at 2 pm; registration begins at 1:30 pm. You can participate by gathering sponsors and walking one of the designed routes for either five miles, three miles or one mile. Or, if unable to walk, you can "rock" your support in a rocking chair for a designated time. All ages are welcome to participate. For more information, contact Rev. Cora Glass at cglass@waterfordcumc.org.
You can also register and donate online at https://www.crophungerwalk.org/waterfordmi
This year the Waterford Area CROP Walk will provide funds to the following local organizations: Open Door Outreach Center of Waterford, Waterford Meals on Wheels, Baldwin Center, Pontiac, and Good Samaritan Food Pantry, Pontiac.
About CROP Walk
CROP Hunger Walks help to support the overall ministry of Church World Service, especially grassroots, hunger-fighting development efforts around the world. In addition, each local CROP Hunger Walk can choose to return up to 25 percent of the funds it raises to hunger-fighting programs in its own community.
CROP Hunger Walks help to provide food and water, as well as resources that empower people to meet their own needs. From seeds and tools to wells and water systems, to technical training and micro-enterprise loans, the key is people working together to identify their own development priorities, their strengths and their needs something CWS has learned through some 70 years of working in partnership around the world.