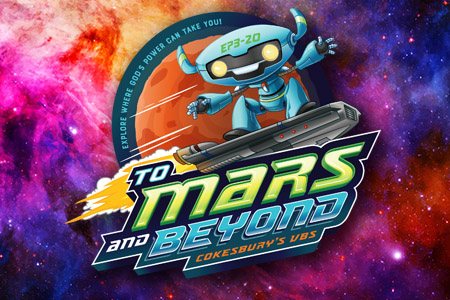 VBS 2019
March 7, 2019 3:16 pm
Monday, June 24th – Friday, June 28th, 9am – Noon
To Mars and Beyond!
During VBS kids will explore the wonders of God's power at work within themselves and others. From their very own outpost on Mars, they'll blast off to distant planets on exciting missions. The adventure will be out-of-this-world fun, and include learning and timeless Bible stories that will inspire kids to give glory to God!
Each day Voyagers will rotate daily through several activity areas, including:
Opening & Closing Assembly
Story
Science
Crafts
Snack (We are an allergy-conscious program)
Music
Recreation
Preschool program
For Kids of All Ages
VBS is open to children age 3-½ years old through completed 5th grade. Middle school and high school youth and adults may volunteer to serve as group leaders and assistants.
Cost
There is no cost to attend, but a free-will donation will be taken to help offset expenses.
Registration
Register Children and Volunteers and learn more about To Mars and Beyond now at www.myvbs.org/waterfordcumc.
Paper registration forms are also available in the church office, or click here to download a PDF. Return forms to the church office.
For questions or more information, contact Rev. Cora Glass at (248) 681-0040 or cglass@waterfordcumc.org.
Watch the Video!