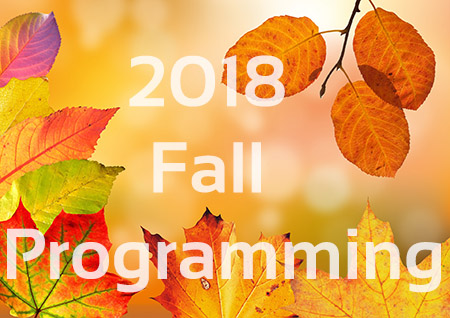 Fall Programming Kicks Off
September 4, 2018 2:30 pm
As the seasons change and the nights grow cooler the rhythm of life changes. School starts up, everyone is back to work, Rally Day brings us back to church and Central's fall programming gets into full swing!
Worship
Rally Day Is Sunday, Sept. 9th
Join us at 10 am for a special "back to church" Sunday as we officially welcome Rev. Cora to Central with a special service of installation. There will be a welcome reception after worship. We will also have music by the Latin jazz group "Nuevo Jazz Detroit."
Fall Services Begin Sept. 16th
8:30 am – Chapel Worship
10 am – The Conversation
10:30 am – Sanctuary Worship
Worship Arts
Chancel Choir Kicks Off Thursday, Sept 6th
Join us at 6 pm at Pastor Jack's house for food and fellowship. There will be a short rehearsal following dinner.
Back to Rehearsal on Sept. 13th
Thursday, September 13th marks our return to regular fall rehearsals for most Worship Arts groups. Join us for creative expression and fellowship.
Alleluia Dancers–4 pm
Good New Ringers–5 pm
YTBN Ringers–5:45 pm
Agape Ringers Rehearsals–6:25 pm
Jubilate Dancers–6:30 pm
New Joy and Carol Choir–6:30 pm
Chancel Choir–7:30 pm
Sunday September 16th at 11:45am will be the first fall rehearsal for Built on the Rock Youth Ensemble.
Worship Arts Open House
Thursday, September 13th will also be a Worship Arts Open House. Everyone is invited to wander in and out of rehearsals throughout the afternoon and evening to see what we do, how we do it, and whether it might be something you (or someone you know) might enjoy.
Invite family and friends!programming
Fellowship
Central Cinema Kicks Off Saturday, Sept. 8th
Our first showing will be the film "Gifted," about a single man raising a child prodigy—his spirited young niece Mary—and his struggle with the demands of Mary's maternal grandmother and his desire to insure Mary a "normal" childhood.
Central Café – First Dinner Thursday, Sept. 20th
We're back to serving a delicious meal at Central Café. Come for dinner then stay for rehearsals. Please be aware that the cost of dinner is increasing slightly as follows:
Adults $5.00
Salad Bar $3.00
Children $3.00
Moms Connect–Begins September 10th
Are you a mom looking for support from other moms? Moms Connect is for you! Moms Connect will meet on the 2nd and 4th Monday of the month from 9:30 to 10:30am. Come for fellowship and support. Moms Connect will be led by Rainy Stephenson. Participant books are available for $15 (scholarships available). Childcare is provided with an RSVP; to RSVP for childcare, contact Rev. Cora at cglass@waterfordcumc.org.
Children and Youth
Confirmation Orientation Sunday, Sept. 16th
Confirmation class will begin with a blessing and informational meeting. The blessing will be at the 10:30 am service with the information meeting to follow. Confirmation is geared towards those in 7th and 8th grades and will meet on Sunday nights from 4:30–5:30pm throughout the school year. This is a chance for youth to grow in faith and become members of the church. See Rev. Cora for more information, or sign up online.
Youth Group Kick Off Sunday, Sept. 16th, 6 pm
4th through 12th grade students and their families are invited to Youth Group Kick Off! We'll get to know one another over good food and fun. Rev. Cora will share plans for the school year and opportunities to get involved. Please contact the church office (248-681-0040 or info@waterfordcumc.org) to let us know if your youth and family can be part of our kick off.
3rd Grade Bible Sunday, Sept. 16th, 10:30 am Worship
Please let Rev. Cora know by September 5th if you know a 3rd Grader who would like to be presented with a Bible.
Book and Bible Studies
Fall is a great time to re-commit to God and your Faith Growth. Central offers something for everyone!
Purple Threads–Thursday, Sept. 18th, 7pm
This women's bible study and prayer group will begin a new study on Fire on the Mountain: Displaying God to a Broken World by Ray Vander Laan.
FaithLink–Sunday, Sept. 16th, 9:15am
This group connects faith and current events and will begin the fall season with a discussion on "The Truth About Immigration on Our Southern Border."
Thursday Evening Study–Sept. 13th, 6:30 pm
Runs through Thursday, Oct. 4th
We know that hope is central to our identity as Christians and we know that supreme hope is found in a relationship with Jesus Christ, but how does that relationship become real to us? In Citizens of Hope, a book and four-week small-group study, we'll be guided on a formative path of understanding who God is and who you are as God's children.
Don't see your favorite study or group listed? Not to worry; we're still working out fall plans for a few of the groups. We'll share the info as soon as it becomes available.