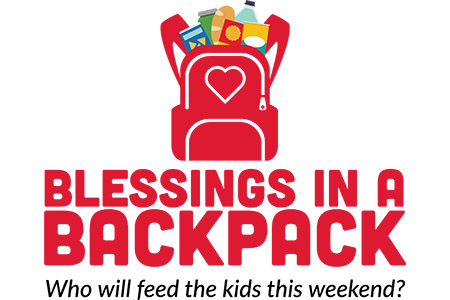 Blessings in a Backpack 2019
October 8, 2019 9:26 am
Blessings in a Backpack in Waterford has its origins at Central UMC. The program, co-chaired by Judge Rich Kuhn and Barb Laing, provides weekend food for elementary school students who qualify for the free and reduced-fee lunches during the week.
At Riverside Elementary school, the program fed just over 100 children for the weekends during the past school year. The result of this program is that children come back to school on Monday more rested and ready to learn because they did not go hungry over the weekend.
After a year of planning, the program is rolling out at Donelson Hills Elementary in October. This will more than triple the budget, due to the many children at Donelson Hills who are eligible to participate.
How Can You Help?
The addition of another school means that more donations will be needed to purchase food. It takes only $100 to feed a child for one year. Donations are tax-deductible and all donated funds go directly to help pay for the food; all overhead costs are absorbed by individuals or grants. Checks can be made out to Central United Methodist Church, with "Blessings in a Backpack" in the memo line.
You can also volunteer at either school once a month to help unpack the truck that delivers food from Meijer, or come on Wednesdays to help pack backpacks. More volunteers are needed now that Donelson Hills is part of the program. For more information, contact Barb Laing, or call Rachel in the church office.
Is It Making a Difference?
Teachers tell Blessings personnel that kids return to school on Mondays more alert and ready to learn, and they hear from parents that the food helps their children. So, while it's about the kids, it's also about us. Will we sit quietly by and bemoan the fact that children in our community are hungry, or will we continue to answer Christ's call to compassion as part of our own spiritual journey?
Thank you for all of the donations and volunteer hours already given; please continue to donate, give time or offer prayers for Blessings in a Backpack.