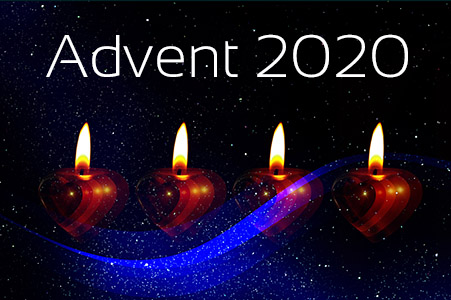 Advent & Christmas 2020
November 23, 2020 1:16 pm
This Advent will look like no other! But we are still called to await the coming of our savior. Below are a few ways you might find to connect with God's good news this Advent and Christmas.
Message Series
This Advent, Pastor Jack and Rev. Cora will preach a series called Travel Light. This five-message series examines what it means to "Travel Light." How do we get rid of that which burdens our lives? We'll focus during this Season of Advent on letting go of distractions, bitterness, control, failure, and "stuff." You can continue to find these messages during our Sunday worship on Facebook or posted online the days following. Also, make sure to tune in to Pastor Jack's daily devotionals found on our Facebook page or YouTube channel.
Advent Studies
Our Advent study will correspond to our sermon series, Travel Light. Pastor Jack will lead a Zoom study on Wednesday nights at 7pm. To sign up, email Jack at jmannschreck@waterfordcumc.org.
Rev. Cora will also be coordinating a Travel Light Facebook group about our Advent study. Here I'll post weekly prompts where you can participate as you're able. In this group, I'll do a Facebook live video at 7pm on Monday nights to discuss the prompts together.
Advent Devotionals
Advent devotionals can help you prepare your heart for the coming of Christ. Here are four recommended options:
Pick up: Stop by the church office to find a selection of pre-printed devotionals for families and adults to use at home.
Email: One of Rev. Cora's favorite devotions is from Biola University. It connects art and music with a reflection. Click here to subscribe.
Facebook: Follow @thewanderingwisemen to join Balthazar, Melchior, and Gaspar—along with their faithful camel, Hezekiah—on a whimsical holiday quest to find the infant king.
Print: A scripture-a-day calendar to download from thomasmousin.com.
Christmas and Advent Events
Advent Worship on Facebook Live
Blue Christmas on Facebook Live
Wednesday, November 16th @ 7pm. A service of remembrance and encouragement. Leave your pain, loss and discouragement at the altar in readiness to find peace this Advent season. Join us at facebook.com/waterfordcumc/live.
Family Christmas – Live on Zoom
Wednesday, December 23rd @ 7pm or Thursday, December 24th @ 4pm. A family-friendly virtual service that includes songs, times of reflection, and the Christmas story! Please register for this service at https://bit.ly/CUMCFamilyChristmas.
Christmas Eve Worship on Facebook Live
Welcome the new born king! Join us at facebook.com/waterfordcumc/live.

Thursday, December 24th @ 8pm. Carols & Candlelight Service.
Thursday, December 24th @ 11pm. Carols & Communion Service.
Christmas Day Hymn Sing