Worship Service – Third Sunday in Advent
December 12, 2021 @ 10:30 am

-

11:30 am
---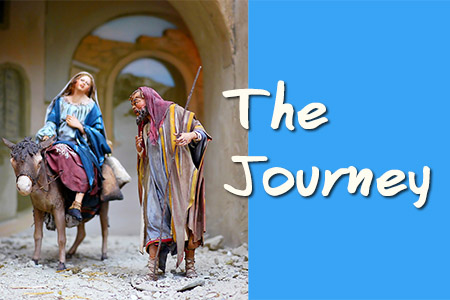 Message: Rev. Cora
The Journey – Mary and Elizabeth. When Mary heard that she was to bear the child who is the long-awaited Messiah, she was likely confused and terrified. During the announcement from the angel Gabriel, Mary had learned of Elizabeth's pregnancy – God was truly acting in mysterious ways! It's possible that before Mary told her parents about her pregnancy she sought to be with Elizabeth. The journey from Nazareth to Elizabeth home was eighty miles and would have taken about 9 days to walk there. Mary's dedication to that journey speaks volumes about her relationship with Elizabeth. Elizabeth, a much older cousin to Mary, must have been a comfort to Mary as she proclaimed a blessing to Mary. Elizabeth acted as a mentor and guide for Mary. Out of that meeting came the wonderful Magnificat through which Mary "magnifies" the Lord with her worship.
Scripture:
Special Music:
Covenant Choir – Carol of the Roses – Richard Kountz
Children's Bulletins:
Join Us Online!
Hop on a few minutes early. If you're having trouble, leave a comment and we'll help out.
Let us know you worshiped by filling out the online Connection Card (click here).
If You Have Streaming Issues (choppy, freezing, etc.), Check the following:
Make sure that your internet isn't being used for something else.

Remember, if someone is watching Netflix, Hulu, YouTube, or another streaming video service, that is taking up your Internet bandwidth. Ditto if anyone in the household is streaming music from Spotify, YouTube, or a similar service.
Your phone may also be using bandwidth if you're logged into your home wireless network. And, if anyone is streaming video or music to a phone or tablet, that's using your Internet bandwidth. If anyone is having a Zoom meeting, that is using your bandwidth.

If you begin watching the stream and it freezes and doesn't "catch up" in 30 seconds or so, close it and re-join the stream. We've had folks report that this has solved their issue.
If you're on the stream but don't see the live video, just a black screen, wait a couple of minutes. We start the live stream at 10:25, but there is about a 2-minute delay. If you've been waiting a while and still don't see the live video, leave the page, then come back or refresh your browser.