Ken Ferguson
Worship Leader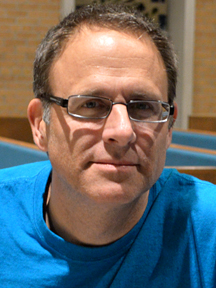 What is your favorite thing about Central UMC?
The people were open, kind and welcoming to me in my first few months. I have had nothing but pleasant interactions with people.

Who is a hero of yours and why?
My personal heroes are MLK and Gandhi. They were amazing individuals who changed their cultures through peaceful, Jesus-like action. The concept of non-violent protest has changed and brought about a better world.
If you could vacation anywhere… where would you go?
I would go backpacking, with my wife, across parts of Scotland and Ireland. I would visit soak in the vivid green, visit ancient pubs, and learn old songs.
What was your first job?
I had two simultaneous first jobs. I was a Free Press delivery boy and I also cut the grass, during the summer months, at the Grosse Pointe United Methodist Church. 6 hours a week on a Cub Cadet.
What's on your IPod right now?
The Fleet Foxes is almost always ready to play along with hundreds of worship songs. I have a particular love of all Jeremy Riddle songs and most songs by John Mark McMillan.
What inspires you?
A smile from my wife. Dark cloud lit by bright sunlight. And an excellent idea.
What's one book that has impacted you?
The Bible and C.S. Lewis's Mere Christianity

What is your favorite snack?
Swedish fish
What is your proudest moment?
A bunch of them. Watching the births of my children. Five years of missions in East Africa. Running my fastest marathon.
What is one thing that people don't know about you?
That I really do love hanging out with people and chatting about everything. That I have a deep pain in seeing my children grow so quickly. That I am rarely sad and find life continually fascinating. That I have a constant desire to be outside on a forest trail.
What is your biggest challenge?
Fighting my desire to want to do too much. It's extremely difficult for me to rest and even sleep.
What famous person do people tell you that you look like?
Umm… No idea.
What is your favorite season and why?
Spring! It's green. It's cool and fresh. It's bursting with new plants, life and fresh rain and streams.

What was your childhood ambition?
I wanted to be an ice cream man.
What's something quirky about you?
Just about everything from what my students and family tell me.
What is something that God has been teaching you lately that you didn't know before?
A few years ago I began learning that worship and prayer are ALWAYS supposed to be taking place in my life. I was challenged by the book Practicing the Presence of God by Brother Lawrence. It has blown my mind for a couple of years now. I try to live in a constant state of worship and prayer. I fail about 99% of the time though. This is my life's challenge. Working toward 2% of my day.